Home

BEACON HILL CONCERT SERIES 

Dear Friends,
The Beacon Hill Concerts are a series of free classical and semi-classical concerts that take place in a newly-built music hall situated on a beautiful privately-owned property near Stroudsburg, Pennsylvania. The series aims at providing high-quality classical and semi-classical music to the Pocono region. Now in our tenth season, with four concerts scheduled for summer, 2017, we are once again bringing outstanding musical artists to this area. Guests are welcome and can make inquiries and reservations by emailing the concert coordinator, Dan Crawford, or calling Jean Stettler at 570-476-1308. 
2017 Concert Series

Thursday, April 27, 4:00 p.m., VOX LUMINIS
Saturday, May 20, 4:00 p.m., Elise Quagliata, Mezzo-soprano & Michael Fennelly
Saturday, July 8, 4:00 p.m., Artem Belogurov
Saturday, July 29, 4:00 p.m., TENET
Saturday, August 12, 4:00 p.m., Alkemie
VOX LUMINIS returns to Beacon Hill Concerts
"I KNOW THAT MY REDEEMER LIVETH"
April 27, 2017, 4:00 p.m. (Reservations accepted beginning March 27)
Vox Luminis, the Belgian vocal ensemble that has risen to the forefront of the European early music scene, will be returning to Beacon Hill Concerts Thursday, April 27, 4:00 pm, to give us more of their beautiful music. Many of us will not forget their stunning performance here of "Schutz and the Bach Family" in October, 2014. This year, the 12-member ensemble will present a selection of music of the English Renaissance by composers Tallis, Purcell, Byrd, and White, and English royal funeral music by Morley and Purcell, in a program titled "I Know that my Redeemer Liveth."
Founded in 2004 in Namur, Belgium by their current director Lionel Meunier, Vox Luminis specializes in the performance of 16th through 18th century vocal music. I have heard the group perform six times now, and I can personally vouch for what is said about them in their promo materials—their "seamless blend of high-quality individual voices, exquisite tuning, and clarity of sound." They are truly in a class by themselves.
VL has performed in major festivals and venues across Europe in Belgium, France, Germany, the Netherlands, Portugal, and Croatia. Of their many recordings, the ensemble's 2012 recording of Schutz's Musicalische Exequien has received several prestigious awards including Gramophone's Recording of the Year. See and hear more at www.voxluminis.com .
Elise Quagliata, Mezzo-soprano & Michael Fennelly, accompanist
"Spanish and Sondheim"
Saturday, May 20, 4:00 p.m.
Elise Quagliata returns with accompanist Michael Fennelly for her fourth appearance at BHC, once again combining opera and cabaret in a program especially designed for us, "Spanish and Sondheim." Since we last saw Elise in 2014, she has been very busy doing operatic roles around the country; to mention just a few, she did the lead role in Carmen with the New York City Opera, and then toured this production with the company in Europe and Asia; and she sang Hedda Hopper in Hopper's Wife, also with the New York City Opera. Recently she was in Baton Rouge doing a jazz rendition of Monteverdi's Return of Ulysses, and after that, her signature opera role of Sister Helen in Dead Man Walking with Pensacola Opera.
Elise will do a delightful program of Spanish arias and popular "canciones" by composers Obradors, Wolf, and De Falla, combined with arias of the female leads from Sondheim's well-known theater pieces (Mrs. Lovett from Sweeney Todd, the Baker's Wife from Into the Woods, Sally Plummer from Follies), as well as some classic Hammerstein gems (whom Sondheim cited as a major influence). No one can combine these different styles of music better than Elise. This is a concert not to miss! (Reservations accepted starting April 20.)
Artem Belogurov, Piano
"19th Century American Romantic Music"
Saturday, July 8, 4:00 p.m.
The accomplished young pianist, Artem Belogurov, will favor us with a recital of "19th century American Romantic Music," a style of music with strong European influences, but a distinctively American flavor. Artem has put together an impressive sampling of these romantic composers that includes Margaret Lang (Rhapsody in E), Arthur Foote (Suite #1), John Paine ("In the Country,") and Louis Gottschalk (Le Banjo 'Fantasia Grotesque').
Artem was born in Latvia, grew up in the Ukraine, and studied at the New England Conservatory. Today he divides his time between Boston and Amsterdam. He has given performances in many of the major venues in the northeastern U.S.A. and Europe. I heard one of these performances last fall at the Early Music Festival in Utrecht, Netherlands, and was bewitched by this charming, romantic style of music, so beautifully performed by the artist. Don't miss this one-of-a-kind piano recital. (Reservations accepted starting June 8.)
TENET, Vocal & Instrumental Ensemble
"Music of Medieval France: The Sounds of Time"
Saturday, July 29, 4:00 p.m.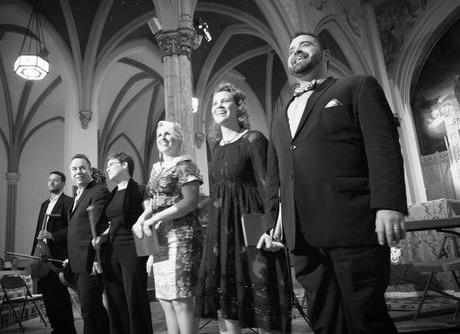 TENET returns this summer with artistic director Jolle Greenleaf and an ensemble of singers and players with a unique program: "Music of Medieval France: The Sounds of Time."  This program consists of distinctively French compositions covering a range of innovative styles developed in the 1300s to 1500s—including songs of courtly love, cheeky tales, eloquent monodies, and rhythmic dance-tunes. From this rich, rarely explored tapestry of styles and sounds, you will hear songs by both lesser-known and celebrated composers (Machaut, Du Fay, Binchois, Busnois, and others).
The performers this year, besides soprano Greenleaf, are tenors Brian Giebler and Jason McStoots, along with Dongmyung Ahn (Vielle), Priscilla Herreid (winds), and Charles Weaver (lute) players. TENET has risen to the top of the Early Music scene in New York, and we are privileged to have Jolle back with us again doing the kind of music that her groups perform with such masterful skill and authenticity. (Reservations accepted starting June 29.)
Alkemie, 3 Sopranos & Instruments
"Rosa das Rosas"
Saturday, August 12, 4:00 p.m.
More Early Music for you from the vocal and instrumental ensemble, Alkemie, who gave us such a vibrant concert last year. We are so pleased to have this group back again—the three sopranos Sian Ricketts, Elena Mullins, and Tracy Cowart, plus David McCormick and Niccolo Seligmann on vielles and percussion, and Paul Holmes, theorbo. This year they will do a program of sacred music, "Rosa das Rosas," on the theme of the Virgin Mary, consisting of medieval music from Spain, France, and Germany, as well as French baroque repertoire by Charpentier, Nivers, and Boesset. In addition to the religious pieces, the program includes a delightful sprinkling of instrumental medieval dance. I heard these singers perform a similar concert two years ago at the Boston Early Music Festival, and was struck by the beautiful harmonies and melodies. This music will transport you into a world of deep feeling and devotion, one that inspires and uplifts. (Reservations accepted starting July 12.)