Home

BEACON HILL CONCERT SERIES 

Dear Friends,
The Beacon Hill Concerts are a series of free classical and semi-classical concerts that take place in a newly-built music hall situated on a beautiful privately-owned property near Stroudsburg, Pennsylvania. The series aims at providing high-quality classical and semi-classical music to the Pocono region. Now in our ninth season, with four concerts scheduled for summer, 2016, we are once again bringing outstanding musical artists to this area. Guests are welcome and can make inquiries and reservations by emailing the concert coordinator, Dan Crawford, or calling Jean Stettler at 570-476-1308. 
Fall Concert, Saturday, October 29, 2016, 4:00 p.m.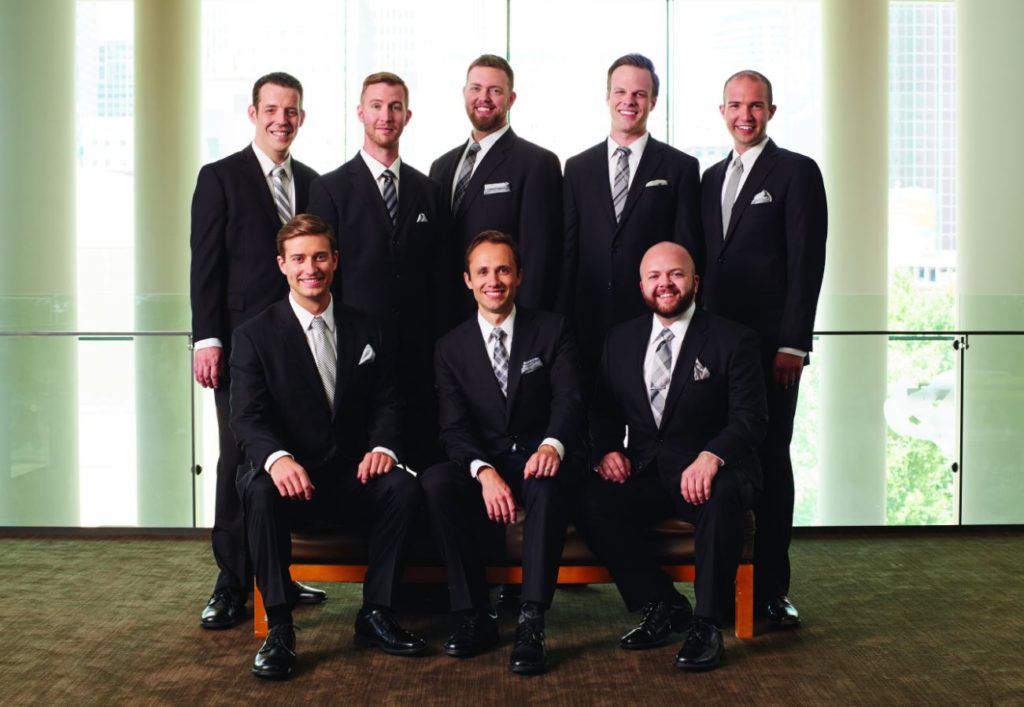 CANTUS: "No Greater Love Than This"
For our added fall concert, we are fortunate to have with us the highly-acclaimed male vocal ensemble, CANTUS, Saturday October 29, 4:00 p.m. Their touring program, entitled "No Greater Love Than This," comprises a set of 18 songs about the lives and experiences of individual soldiers in settings of war and conflict that evoke emotions of bravery, camaraderie, vulnerability, loss, and longing.
Praised as "the premier men's vocal ensemble in the United States" (Fanfare),CANTUS performs more than 60 concerts each year both in national and international touring, and has performed on major stages, including Lincoln Center, the Kennedy Center, UCLA, San Francisco Performances, Atlanta's Spivey Hall, and Bravo! Vail Valley Music Festival.
The program they will do for us covers a wide range from traditional, Janacek's"Ach Vojna," Dvorak's "Goin' Home," Cohan's "Over There," and Whiting's"Eternal Father," to works by recent composers Richard Peaslee ("When I Would in Boyhood Muse"), Lee Hoiby ("Last Letter Home"), Bob Chilcott ("Five Ways to Kill a Man"), Timothy Takach ("Luceat Eis"), John Lennon ("Imagine"), Rob & Ferdi Bolland ("In the Army Now"), and a commissioned work by Jeff Beal.
When I last heard these eight singers perform a cappella, I was struck by their rich harmonies, flawless vocal technique, and meticulous presentation, as well as their creative mix of musical arrangements and styles, from classical to folk to popular. Find out more about CANTUS by visiting www.cantussings.org (click on "hear cantus audio").
Visit https://youtu.be/csUW1JbgpKE for a preview of the "No Greater Love Than This" concert, October 29.
2016 SUMMER SCHEDULE
Saturday, June 11, 4:00 p.m., New York Polyphony, vocal ensemble
Saturday, June 25, 4:00 p.m., Fei-Fei Dong, pianist
Saturday, July 2, 4:00 p.m., Anna DeGraff, soprano & David Alpher, accompanist, "Thank Heaven for Little Girls"
Saturday, July 30, 4:00 p.m., Alkemie Early Music Ensemble, with Sian Rickets, Elena Mullins, & Tracy Cowart, sopranos, "La Bella Rosa"
NEW YORK POLYPHONY, Vocal Ensemble
SATURDAY, JUNE 11, 4:00 P.M.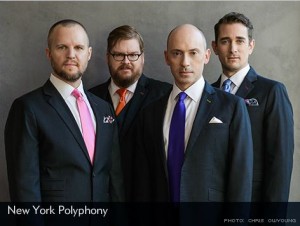 The vocal ensemble New York Polyphony (Geoffrey Williams countertenor, Steven Wilson tenor, Chris Herbert baritone, Craig Phillips bass) returns for their fourth appearance with us. Every time I hear these singers, I am overwhelmed by their blend and the ease with which they convey difficult music, both ancient and modern.   In the past few years, NYP has been performing regularly in major concert series and festivals around the globe and has firmly established a reputation as one of the finest a cappella chamber ensembles in the world today. Highlights include Miller Theatre at Columbia University, London's Wigmore Hall, The Royal Concertgebouw in Amsterdam, and (my favorite) Festival Oude Musiek Utrecht. They have been featured on Performance Today, Footprints to Paradise: A Medieval Christmas, BBC Radio 3's In Tune, and The Martha Stewart Show.  They now have five CDs, and their current release, Sing thee Nowell, has won them their second GRAMMY nomination.
Both in performance and on recordings, the ensemble has shown a commitment to presenting contemporary works that explore the boundaries between traditional and modern music. This is evident in the unique program that Geoffrey Williams has made for us, including pieces from the medieval to the classical and contemporary periods. You will hear the plainsong Pater noster, and three other versions of "Our Father" by Willaert, Durufle, and Andrew Smith; and works by composers as diverse as Clemens non Papa, Saint-Saens, Brahms, Schubert, and Richard Bennett, as well as modern arrangements of traditional hymns and songs such as "I Wander as I Wander," and "Sweet Hour of Prayer."
FEI-FEI DONG, Pianist
SATURDAY, JUNE 25, 4:00 P.M.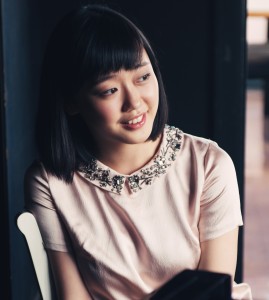 Get ready for a very special debut performance at BHC from world-class pianist Fei-Fei Dong. Born in Shenzhen, China, she moved to New York to study at Juilliard where she earned her Bachelor and Master of Music degrees. She has been called "one of the most engaging and promising rising stars in the musical firmament." She has been praised for her "natural musicality and beauty of tone," and her "winning stage presence."  Fei-Fei has performed in recitals at Alice Tully Hall, Warsaw Philharmonic Concert Hall, and the Louvre, and as soloist with the Aspen Music Festival Orchestra and many symphony orchestras. She has been featured many times on New York's WQXR radio.
She is a member of the Aletheia Piano Trio, which debuted at the Kennedy Center in February 2014.   When I heard her perform in Ft. Worth last year at a Cliburn Festival, I was impressed by her magnetic personality and the joy she takes in playing the classical repertoire and sharing it with her audience. Fei-Fei just did her Carnegie Weill Hall debut (February 2016), which, she told me, "was sold out and went very well." She will do the same program for us (in case you missed it), comprising works by Galuppi (Sonata in C Major), Schumann (Papillons), Liszt (Sonata in B Minor), and Lowell Liebermann (Gargoyles). Join us for what I am sure will be an exciting performance.
ANNA DEGRAFF, Soprano / DAVID ALPHER, Accompanist

"THANK HEAVEN FOR LITTLE GIRLS"

SATURDAY, JULY 2, 4:00 P.M.
We welcome mezzo-soprano Anna DeGraff and accompanist David Alpher (one half of the Alpher-Litt duo who did our cabaret show last August). Anna DeGraff is a rare talent who moves in music circles in the Midwest, performing in musical theater, solo recitals, and various operatic roles. She earned a Masters and Doctoral degree in vocal performance at the University of Minnesota.The program Anna and David have designed for us, "Thank Heaven for Little Girls," puts together a rich selection of songs from the classical and musical theater repertoires about young girls—the innocence of youth, adolescence, and looking back on youth. You will be surprised at the scope of this program, ranging from Massenet (Premiere Danse), Howells (Girl's Song), Donizetti (La Zingara), Gilbert & Sullivan (When But a Maid of Fifteen Years), and Jake Heggie (Paper Wings), to Gershwin (Someone to Watch Over Me), Sondheim (I Know Things Now), Bernstein (Who Am I?), Rogers & Hart (Little Girl Blue), and Alpher/Litt (How I Learned to Ride my Bike); and Anna has the looks, the voice, and vivacious stage presence to put all of these songs across . . . convincingly.
ALKEMIE EARLY MUSIC ENSEMBLE, 
with SIAN RICKETTS, ELENA MULLINS, TRACY COWART, Sopranos
SATURDAY, JULY 30, 4:00 P.M.
We are fortunate to have another newcomer to our BHC series, the recently formed Virginia-based Early Music ensemble Alkemie, featuring three young vocalists, sopranos Sian Ricketts and Elena Mullins, and mezzo-soprano Tracy Cowart (all three of whom hold Doctor of Musical Arts degrees in Historical Performance Practice from Case Western Reserve University), along with David McCormick and Niccolo Seligmann on vielles. Their program, "O Rosa Bella," will focus on the love songs expressed in the intricate polyphonic works of Renaissance composers Machaut, Landini, DuFay, Ciconia, and others.
All five of these performers are heavily engaged in the arts, performing with multiple period ensembles and major orchestras. When I heard the singers last June at the Boston Early Music Festival, I was struck by their well-trained voices and beautiful harmonies, and knew immediately that they would fit perfectly into our series.