Home
BEACON HILL CONCERT SERIES 

Dear Friends,
The Beacon Hill Concerts are a series of classical and semi-classical concerts that take place in a newly-built music hall situated on a beautiful privately-owned property near Stroudsburg, Pennsylvania. The series aims at bringing high-quality vocal and instrumental groups to the Pocono region. Now in our twelfth season, with five concerts scheduled for summer and fall 2019, we are once again bringing outstanding musical artists to this area. Guests are welcome and can make inquiries and reservations by emailing the concert director, Dan Crawford at dandcrawford@gmail.com, or calling Jean at 570-476-1308. There is no admission fee, but a suggested donation of $15 adults, $10 seniors, $5 students can be given at the door.
BEACON HILL SUMMER CONCERT SERIES
Poorwill Lane (String) Duo,
Hyeyung Yoon (violin) & Gregory Beaver (cello)
Saturday, June 1, 4:00 p.m.
Experience the unique husband-and-wife string duo, Hyeyung Yoon (violin) and Gregory Beaver (cello), with guest pianist Molly Morkoski (making it a Piano Trio). Educated at Juilliard, Hyeyung and Greg comprised half of the Chiara String Quartet for 18 years from their founding to the breaking up of the group last year; (the Chiara Quartet gave us three unforgettable performances in previous summers). As a part of Chiara, they performed the Beethoven, Brahms and Bartok quartet cycles and recorded the latter two BY HEART! Their recording of Jefferson Friedman's quartets was nominated for a Grammy Award in 2011. Also, the quartet was Artist-in-Residence at Harvard University (2008-2014) and at the Univ. of Nebraska-Lincoln (2005-2018).
Hyeyung and Greg have since continued actively teaching, composing, conducting workshops, and performing as soloists and as a duo. Hyeyung teaches at the Hartt School in CT and has just returned from a trip to her native South Korea where she studied a traditional folk performance practice called Madang, which she will share with us in our concert. In addition, the program will include solo works, along with gems from the classical repertoire including Bach solo, a Ravel duo, and Beethoven's "Ghost" Piano Trio. Join us for what I know will be a lively, virtuosic performance by this talented couple.
Stile Antico, vocal ensemble
"Queen of Muses"
Sunday, June 16, 4:00 p.m.
We present another of Europe's outstanding vocal ensembles, the 12-member Stile Antico, performing their "sensitive and imaginative" renditions of polyphonic Renaissance music. Based in London, the group has toured regularly in North America and on four continents; (recently returning from a trip that included Hong Kong, Macau, and South Korea). These young singers have appeared in all the major venues and festivals in Europe and will be coming to us directly from a performance of the same concert at the Boston Early Music Festival. I first encountered them in the Netherlands at the Utrecht Early Music Festival where they performed before a packed cathedral audience. Recently, they released their 13th recording, "In a Sorry Land," with Harmonia Mundi.
In our concert, "Queen of Muses," they treat us to a selection of English compositions from the court of Elizabeth I, who was the most significant patron of music in British history. We will hear motets and madrigals from all the great composers of this time, some of whom were suitors of the queen, some whom Elizabeth favored with court appointments, (William Byrd, Thomas Tallis, and the Italian Alfonso Ferrabosco); and some who were not so favored, (John Dowland). This is a rare opportunity to hear a world-class ensemble that you won't want to miss. www.stileantico.co.uk
Montreal Guitare Trio (MG3)
"Program Danzas"
Saturday, August 3, 4:00 p.m.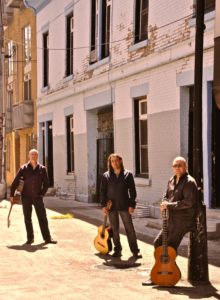 The Montreal Guitare Trio (MG3) will give us our "semi-classical" concert with a creative program of Spanish guitar music that pays tribute to some of the great Spanish composers such as Manuel de Falla and the flamenco guitarist Paco de Lucia, plus some of the trio's own compositions, plus songs by George Harrison and Pat Metheny.
For over 20 years, guitarists Sebastien Dufour, Glenn Levesque, and Marc Morin have delighted audiences across North America, Europe, Australia and New Zealand, winning numerous awards along the way, and recently producing their 7th album. I can guarantee that their unique style, mixed program, and colorful stage presence will win you over and draw you into the rich tradition of Spanish music. Don't miss it! www.mg3.ca
Arianna & Robin Piano Duo, four-hand piano
Saturday, August 17, 4:00 p.m.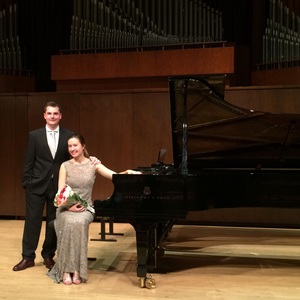 For the first time in our Beacon Hill series, we present a piano duo, Arianna & Robin, performing four-hand piano music. Arianna Korting and Robin Giesbrecht met six years ago at Juilliard while preparing for piano careers as individual artists, both having won impressive Young Artist competitions. Soon thereafter, they performed together at a Pianofest in the Hamptons, and found their passion playing both two pianos and four-hand works.
Since their formation as a duo, they have had debut performances at the Hamburg Philharmonic Hall and Carnegie Hall's Weil Recital Hall, with selections from the vast duo repertoire as well as their own compositions and transcriptions of pieces originally not written for piano. Their program for our concert will include works by Schubert, Saint-Saens, Debussy, Czerny, and Gershwin (Rhapsody in Blue), plus the well-known "Vardar" by Bulgarian Pancho Vladigerov. We hope you'll join us for this unique introduction to the art of the piano duo. www.ariannarobin.com